Liedtext
1. In a cavern, in a canyon,
Excavating for a mine,
Dwelt a miner, forty-niner,
And his daughter Clementine.
Refrain:
Oh my darling, oh my darling,
Oh my darling Clementine
You are lost and gone forever,
Dreadful sorry, Clementine.
2. Light she was, and like a fairy,
And her shoes were number nine,
Herring boxes without topses,
Sandals were for Clementine.
3. Walking lightly as a fairy,
Though her shoes were number nine,
Sometimes tripping, lightly skipping,
Lovely girl, my Clementine.
4. Drove she ducklings to the water
Ev'ry morning just at nine,
Hit her foot against a splinter,
Fell into the foaming brine.
5. Ruby lips above the water,
Blowing bubbles soft and fine,
But alas, I was no swimmer,
Neither was my Clementine.
6. In a churchyard near the canyon,
Where the myrtle doth entwine,
There grow rosies and some posies,
Fertilized by Clementine.
7. Then, the miner, forty-niner,
Soon began to fret and pine,
Thought he oughter join his daughter,
So he's now with Clementine.
8. I'm so lonely, lost without her,
Wish I'd had a fishing line,
Which I might have cast about her,
Might have saved my Clementine.
9. In my dreams she still doth haunt me,
Robed in garments soaked with brine,
Then she rises from the waters,
And I kiss my Clementine.
10. Listen fellers, heed the warning
Of this tragic tale of mine,
Artificial respiration
Could have saved my Clementine.
11. How I missed her, how I missed her,
How I missed my Clementine,
Til I kissed her little sister,
And forgot my Clementine.
Melodie (Midi, Mp3 und/oder Video)
MP3 bei Amazon - Streamen oder Download
Midi (Kostenloser Download)
Noten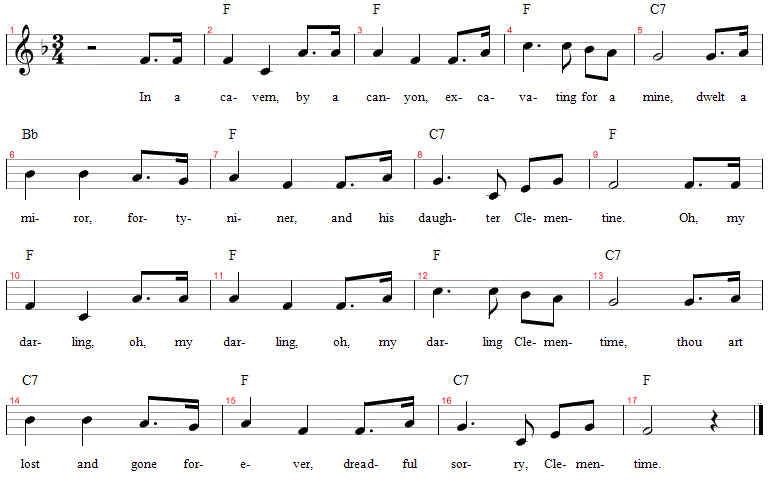 Kostenlose Notenblätter
Notenblatt mit Gitarrenakkorden und Text (F)
Klaviernoten mit Text
Hinweis: Diese Seite stellt eine Basisinformation dar. Sie wird routinemäßig aktualisiert. Eine Gewähr für die Richtigkeit und Vollständigkeit der Angaben kann nicht übernommen werden. Sollte eine Datei gegen Urheberrechtsbestimmungen verstoßen, wird um Mitteilung gebeten, damit diese unverzüglich entfernt werden kann.
Die Aufführungsrechte werden allein durch das Urheberrecht geregelt, sie können nicht aus der Veröffentlichung im Archiv abgeleitet werden. Sofern auf bestehende Notenblätter und Partituren externer Seiten verlinkt oder diese eingebunden wurden, ist jeweils die Quelle angegeben und es wird gebeten, sich dort über die Nutzungsbestimmungen der Rechtsinhaber zu informieren.
Manche der älteren Lieder enthalten Wörter und Darstellungen, die in der heutigen Zeit als beleidigend oder rassistisch gelten. Die Liederkiste unterstützt diese Ausdrücke nicht, möchte jedoch das Liedgut im Orginal bewahren, Dokumente einer Zeit mit anderen Einstellungen, Perspektiven und Überzeugungen.