Low bridge, the Erie Canal Song
Amerikanisches Volkslied (Folksong), Text und Melodie: traditionell
Liedtext
Melodie
Noten
Liedtext
I've got an old mule and her name is Sal
Fifteen years on the Erie Canal
She's a good old worker and a good old pal
Fifteen years on the Erie Canal
We've hauled some barges in our day
Filled with lumber, coal, and hay
And every inch of the way we know
From Albany to Buffalo
Refrain:
Low bridge, everybody down
Low bridge for we're coming to a town
And you'll always know your neighbor
And you'll always know your pal
If you've ever navigated on the Erie Canal
We'd better look 'round for a job old gal
Fifteen miles on the Erie Canal
'Cause you bet your life I'd never part with Sal
Fifteen miles on the Erie Canal
Git up there mule, here comes a lock
We'll make Rome 'bout six o'clock
One more trip and back we'll go
Right back home to Buffalo
Oh, where would I be if I lost my pal?
Fifteen miles on the Erie Canal
Oh, I'd like to see a mule as good as Sal
Fifteen miles on the Erie Canal
A friend of mine once got her sore
Now he's got a busted jaw,
'Cause she let fly with her iron toe,
And kicked him in to Buffalo.
Don't have to call when I want my Sal
Fifteen miles on the Erie Canal
She trots from her stall like a good old gal
Fifteen miles on the Erie Canal
I eat my meals with Sal each day
I eat beef and she eats hay
And she ain't so slow if you want to know
She put the "Buff" in Buffalo.
Melodie (Midi, Mp3 und/oder Video)
MP3 bei Amazon - Streamen oder Download
Midi (Kostenloser Download)
Noten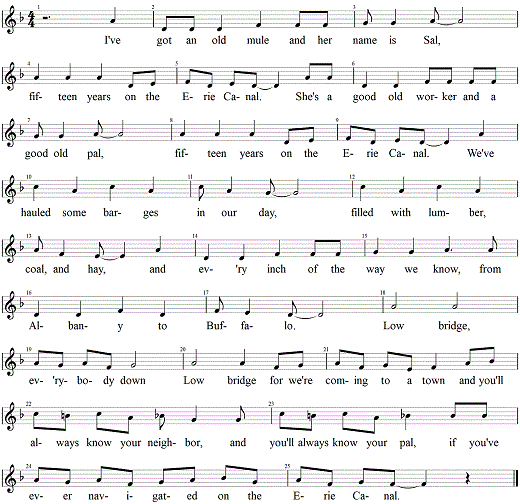 Kostenlose Notenblätter
Einfaches Notenblatt mit Text
Notenblatt mit Text und Gitarrenakkorden
Notenblatt für Gesang und Klavier
Hinweis: Diese Seite stellt eine Basisinformation dar. Sie wird routinemäßig aktualisiert. Eine Gewähr für die Richtigkeit und Vollständigkeit der Angaben kann nicht übernommen werden. Sollte eine Datei gegen Urheberrechtsbestimmungen verstoßen, wird um Mitteilung gebeten, damit diese unverzüglich entfernt werden kann.
Die Aufführungsrechte werden allein durch das Urheberrecht geregelt, sie können nicht aus der Veröffentlichung im Archiv abgeleitet werden. Sofern auf bestehende Notenblätter und Partituren externer Seiten verlinkt oder diese eingebunden wurden, ist jeweils die Quelle angegeben und es wird gebeten, sich dort über die Nutzungsbestimmungen der Rechtsinhaber zu informieren.
Manche der älteren Lieder enthalten Wörter und Darstellungen, die in der heutigen Zeit als beleidigend oder rassistisch gelten. Die Liederkiste unterstützt diese Ausdrücke nicht, möchte jedoch das Liedgut im Orginal bewahren, Dokumente einer Zeit mit anderen Einstellungen, Perspektiven und Überzeugungen.