In the bleak midwinter
Weihnachtslied - Christmas carol
Text: Christina Rossetti (1830-1894), mehrfach vertont
Liedtext
In the bleak midwinter
Frosty wind made moan,
Earth stood hard as iron,
Water like a stone;
Snow had fallen,
Snow on snow,
In the bleak midwinter,
Long ago.
Our God, heaven cannot hold him,
Nor earth sustain;
Heaven and earth shall flee away
When he comes to reign;
In the bleak midwinter
A stable place sufficed
The Lord God incarnate,
Jesus Christ.
Enough for him, whom Cherubim
Worship night and day
A breast full of milk
And a manger full of hay.
Enough for him, whom angels
Fall down before,
The ox and ass and camel
Which adore.
Angels and archangels
May have gathered there,
Cherubim and seraphim
Thronged the air;
But his mother only,
In her maiden bliss,
Worshipped the Beloved
With a kiss.
What can I give him,
Poor as I am?
If I were a shepherd
I would bring a lamb,
If I were a wise man
I would do my part,
Yet what I can I give Him —
Give my heart.
Kostenlose Noten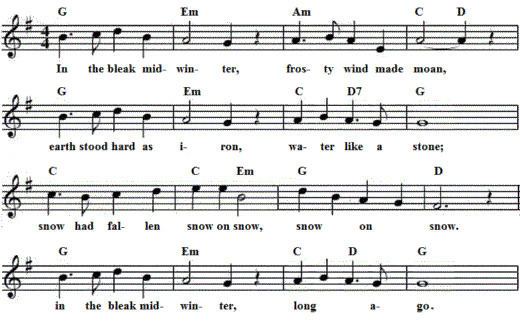 Einfaches Notenblatt mit Text
Notenblatt mit Text und Gitarrenakkorden (G)
Notenblatt für 4 Stimmen, Chorblatt SATB (Gustav Holst)
Melodie
Kostenloses Mp3 (instrumental) zum Mitsingen

Midi (Kostenloser Download)
Hinweis: Diese Seite stellt eine Basisinformation dar. Sie wird routinemäßig aktualisiert. Eine Gewähr für die Richtigkeit und Vollständigkeit der Angaben kann nicht übernommen werden. Sollte eine Datei gegen Urheberrechtsbestimmungen verstoßen, wird um Mitteilung gebeten, damit diese unverzüglich entfernt werden kann.