All through the night
Walisisches Wiegenlied
Text: Sir Harold Boulton in 1884, Melodie: Erstmals aufgezeichnet in Edward Jones' Musical and Poetical Relics of the Welsh Bards (1784)
Liedtext
1. Sleep, my child, and peace attend thee
All through the night
Guardian angels God will send thee
All through the night
Soft the drowsy hours are creeping
Hill and dale in slumber sleeping
I my loving vigil keeping
All through the night
2. While the moon her watch is keeping
All through the night
While the weary world is sleeping
All through the night
O'er thy spirit gently stealing
Visions of delight revealing
Breathes a pure and holy feeling
All through the night
Alternative Strophen
Angels watching ever round thee
All through the night
In thy slumbers close surround thee
All through the night
They will of all fears disarm thee,
No forebodings should alarm thee,
They will let no peril harm thee
All through the night.
You my child a babe of wondert
All through the nightt
Dreams you dream can't break from thundert
All through the nightt
Through your dreams you're gently healingt
Visions of delight revealingt
Slumber time is so appealingt
All through the night
Kostenlose Noten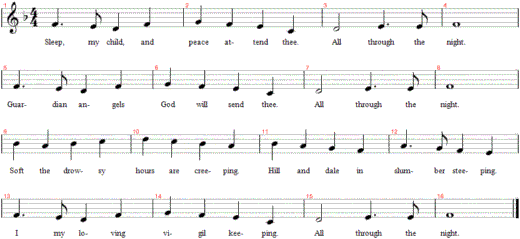 Einfaches Notenblatt mit Text
Notenblatt mit Text und Gitarrenakkorden
Einfache Klaviernoten mit Text
Notenblatt für 3 Stimmen, Frauenchor (externes PDF)
Notenblatt für 4 Stimmen, Männerchor (externes PDF)
Chorblatt SATB, mit deutschem Text (externes PDF)
Melodie
Kostenloses Mp3 (instrumental) anhören
Hinweis: Diese Seite stellt eine Basisinformation dar. Sie wird routinemäßig aktualisiert. Eine Gewähr für die Richtigkeit und Vollständigkeit der Angaben kann nicht übernommen werden. Sollte eine Datei gegen Urheberrechtsbestimmungen verstoßen, wird um Mitteilung gebeten, damit diese unverzüglich entfernt werden kann.