My heart is like a singing bird
Melodie: Charles Hubert Hastings Parry (1848-1918) - Text: Christina Roselli
Kostenlose Noten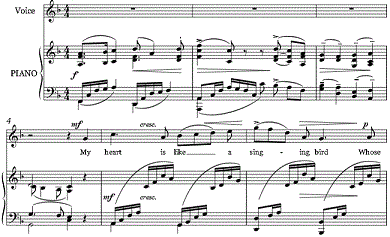 Melodie
Liedtext
My heart is like a singing bird
Whose nest is in a water'd shoot;
My heart is like an apple-tree
Whose boughs are bent with thickset fruit;
My heart is like a rainbow shell
That paddles in a halcyon sea;
My heart is gladder than all these
Because my love is come to me.
Raise me a dais of silk and down;
Hang it with vair and purple dyes;
Carve it in doves and pomegranates,
And peacocks with a hundred eyes;
Work it in gold and silver grapes,
In leaves and silver fleurs-de-lys;
Because the birthday of my life
Is come, my love is come to me.
Internationale Lieder M
My little pony
Hinweis: Diese Seite stellt eine Basisinformation dar. Sie wird routinemäßig aktualisiert. Eine Gewähr für die Richtigkeit und Vollständigkeit der Angaben kann nicht übernommen werden. Sollte eine Datei gegen Urheberrechtsbestimmungen verstoßen, wird um Mitteilung gebeten, damit diese unverzüglich entfernt werden kann.