The Old Folks At Home
Text und Melodie: Stephen Collins Foster (1826-1864)
Kostenlose Noten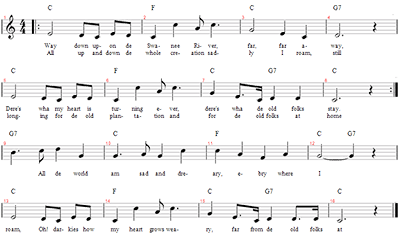 Melodie
Liedtext
1. Way down upon de Swanee river,
Far, far away,
Dere's wha my heart is turning ever,
Dere's wha de old folks stay.
All up and down de whole creation
Sadly I roam,
Still longing for de old plantation
And for de old folks at home.
Refrain:
All de world am sad and dreary,
Ebry where I roam,
Oh! Darkies how my heart grows weary,
Far from de old folks at home.
2. All round de little farm I wandered
When I was young,
Den many happy days I squandered,
Many de songs I sung.
When I was playing wid my brudder
Happy was I
Oh! Take me to my kind old mudder,
Dere let me live and die.
3. One little hut amond de bushes,
One dat I love,
Still sadly to my mem'ry rushes,
No matter where I rove.
When will I see de bees a humming
All round de comb?
When will I hear de banjo tumming
Down in my good old home?
Internationale Lieder O
Old Mac Donald
Hinweis: Diese Seite stellt eine Basisinformation dar. Sie wird routinemäßig aktualisiert. Eine Gewähr für die Richtigkeit und Vollständigkeit der Angaben kann nicht übernommen werden. Sollte eine Datei gegen Urheberrechtsbestimmungen verstoßen, wird um Mitteilung gebeten, damit diese unverzüglich entfernt werden kann.